Vertigo now lets Apple Music members share music with friends on Spotify
The music-sharing iOS app is now cross-platform, creating a bridge between Apple Music and Spotify.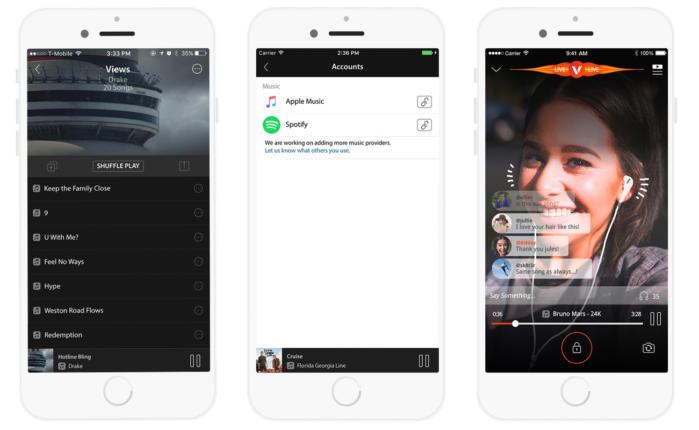 A new iOS app has broken down the barrier between Apple Music and Spotify to make music-sharing truly universal again.
On Wednesday, Vertigo announced that it's now integrated with both Spotify and Apple Music to help people share music regardless of which premium subscription they have. When it launched just last month, Vertigo (iTunes) required a Spotify Premium membership so that users could find music, build playlists, and share live-streaming listening sessions with friends and followers.
Now that Apple Music accounts can be linked as well, Vertigo's become the first iOS app to foster this type of cross-platform music-sharing. You can import your playlists from either Apple Music or Spotify Premium, find new music from the catalogue, and share songs in-app so that your friends can listen using their own subscription.
No one wants to have to choose between Apple Music friends or Spotify friends.
"No one wants to have to choose between Apple Music friends or Spotify friends when it comes to sharing and listening to the universal language of music together," said Greg Leekley CEO and Co-founder of Vertigo.
Vertigo is not just a simple song-sharing app, however. In addition to finding songs, creating playlists, and listening to music ad-free, Vertigo offers "live sessions." These sessions basically let you live-stream while listening to your favorite music. You can share live video and photos, chat in real-time, or add audio commentary while the song is playing.
Vertigo gives you the option to share a live session with another Vertigo user, your "core" group of friends, or the entire app community. Thus, the app's function ranges from collaborative listening to live-streaming centered on music.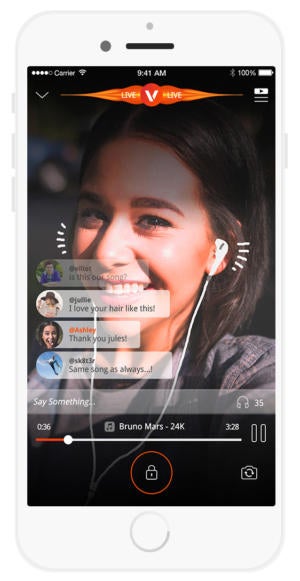 Vertigo
Apple Music and Spotify continue to battle it out to be the top music streaming service. Apple's main weapon has been exclusive content in the form of album premieres from artists like Drake and Frank Ocean. Meanwhile Spotify has continued to improve its personalized playlists while also adding video clips and podcasts. In this fight, it's vital for each service to keep users within their gated platforms. So, how was a third-party player like Vertigo able to nab APIs to integrate services that are so intent in differentiating themselves?
It helps that Vertigo is doing music-sharing the legal way because it allows only users with paid subscriptions. You may remember that Spotify's free tier has been a source of contention for artists. But for each song shared on the Vertigo app, Apple Music or Spotify still pays royalties back to the rights holders. And the royalties are amplified with each listener who joins in with his or her own music streaming membership.